GMA (Global Metrology Academy)
GMA (Global Metrology Academy)
Vision & Purpose
Vision

Center for Excellence in Metrology HRD

Purpose

To contribute to the development of global measurement experts
Overview
The Global Metrology Academy (GMA) is dedicated to promoting human resources development (HRD) of the metrology community across the globe. Launched in December 2012, GMA develops and operates HRD services in metrology, ranging from fundamental to advanced measurement science and technology. Its service portfolio includes group training workshops that are offered a couple of times a year and personalized learning that are organized upon request to meet the specific needs of customers. GMA is a part of KRISS activities of official development assistance to share its knowledge and experience in metrology with the global community.
Curricula

Group course
One- or two-week course for overseas and domestic trainees (biannually)

Individual course
Customized course offered at request of overseas trainees (including training in local country)
Inquiries
Mr. Jungil Jeon
Tel

+82-42-868-5531

E-mail

jeon@kriss.re.kr
Performance (2013-present)
Group course, Individual course, Education and training
Group course
Individual course
Education and training
46 countries
15 countries
Basic and cutting-edge measurement technology;
Electricity and magnetism;
Analytical chemistry;
Length;
Mass and related quantities;
Temperature and humidity;
Fluid flow;
Ionizing radiation;
Photometry and radiometry;
Gas measurement;
Acoustics, ultrasound and vibration;
Measurement and quality
284 people
57 people
20 times
32 times
(254 person-weeks)
Regional/country makeup of participants (2013-present)
As of Dec. 2022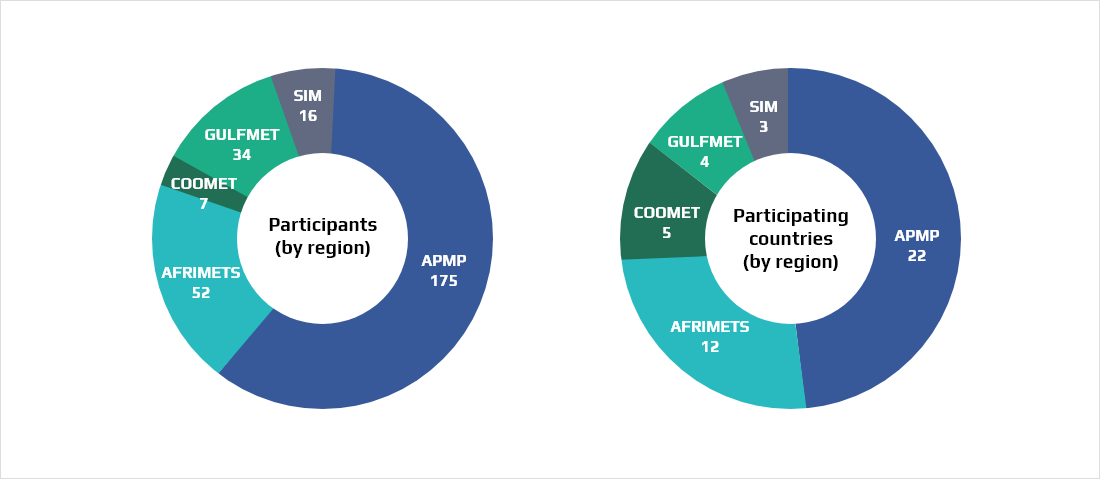 APMP
Bangladesh(12)
Bhutan(2)
Cambodia(6)
China(14)
Chinese Taipei(6)
Hong Kong(9)
India(3)
Indonesia(28)
Iran(1)
Iraq(1)
Japan(2)
Jordan(1)
Lao(2)
Malaysia(13)
Mongolia(13)
Myanmar(3)
Nepal(5)
Parkistan(7)
Papua New Guinea(1)
Philippines(16)
Sri Lanka(11)
Vietnam(19)
AFRIMETS
Botswana(1)
Egypt(5)
Ethiopia(6)
Ghana(2)
Kenya(6)
Malawi(3)
Namibia(2)
Rwanda(1)
South Africa(9)
Tanzania(4)
Zambia(8)
Zimbabwe(5)
COOMET
Azerbaijan(1)
Georgia(1)
Kazakhstan(2)
Kyrgyzstan(1)
Ukraine(2)
GULFMET
Oman(2)
Saudi Arabia(26)
UAE(5)
* Palestine(1)
SIM
Bolivia(4)
Colombia(10)
Trinidad and Tobago(2)
Total
46 countries
284 participanits
* APMP: Asia-Pacific Metrology Programme
* AFRIMETS: Intra-Africa Metrology System
* COOMET: Euro-Asian Cooperation of National Metrological Institutions
* GULFMET: Gulf Association for Metrology
* SIM: Inter-American Metrology System
QUICK MENU
QUICK MENU
원하시는 서비스를 클릭하세요!
등록된 퀵메뉴가 없습니다.