Global KRISS

Global KRISS
International Cooperation
As the National Metrology Institute of Korea, KRISS has built close partnerships with more than 50 overseas institutes to ensure mutual cooperation in the field of metrology and measurement science and technology.
KRISS is engaged in various cooperation activities, not only with the NMIs in advanced and developing countries, but also with world-renowned universities and institutes. In addition, KRISS continues to strengthen its leadership and partnership within the international metrology communities for the sustainable development of humankind in the world.
Global Leadership of KRISS
KRISS has enhanced Korea's international prestige in metrology since 1959 representing Korea as a signatory to the Metre Convention, an international treaty that forms the basis for international agreement on units of measurement. KRISS is also a full member of 10 CCs(Consultative Committees under CIPM, the International Committee for Weights and Measures) which respond to the global measurement issues and development of measurement standards.

Since 1999, KRISS is participating in the CIPM MRA(The Mutual Recognition Arrangement drawn up by the International Committee for Weights and Measures) to establish the degree of equivalence of national measurement standards used in calibration and measurement certificates.

In addition, KRISS has been playing its pivotal role in APMP(Asia Pacific Metrology Programme). KRISS successfully hosted the General Assembly of the APMP in 2005 & 2014. KRISS is trying to build its global leadership while not only taking various leader positions within APMP, but also supporting NMIs(National Metrology Institutes) in developing countries.
CIPM, APMP, IMEKO

CIPM

CIPM Member

Dr. Sang-Ryoul Park (2019~present)
Dr. Dae-Im Kang(2013~2019)
Dr. Kwang-Hwa Chung (2008~2013)

CC President

Dr. Sang-Ryoul Park (CCQM President, 2019~present)
Dr. Myung-Sai Chung (CCL President, 1997~2007)

APMP

Chairperson

Dr. Hyun-Min Park (2022~present)
Dr. Kwang-Hwa Chung (2007~2009)

EC Member

Dr. Yon-Kyu Park (2017~2021)
Dr. Seung-Nam Park (2013~2017)
Dr. Myung-Soo Kim (2009~2013)
Dr. Se-Kyung Lee (2003~2006)
Dr. Hee-Jun Eun (2001~2003)

IMEKO

President

Dr. Dae-Im Kang(2009~2012)
Building Cooperative Networks with global partners
While leading cooperation in metrology in the Asia-Pacific region, KRISS continues to expand the horizons of international cooperation. KRISS seeks for close global partnerships with over 40 institutes, including two international metrology organizations and six regional metrology organizations. KRISS is engaged in various cooperation activities, including joint seminars, meetings of institutional heads, technology transfer and joint research, not only with the NMIs in advanced and developing countries, but also with the world-renowned universities and companies.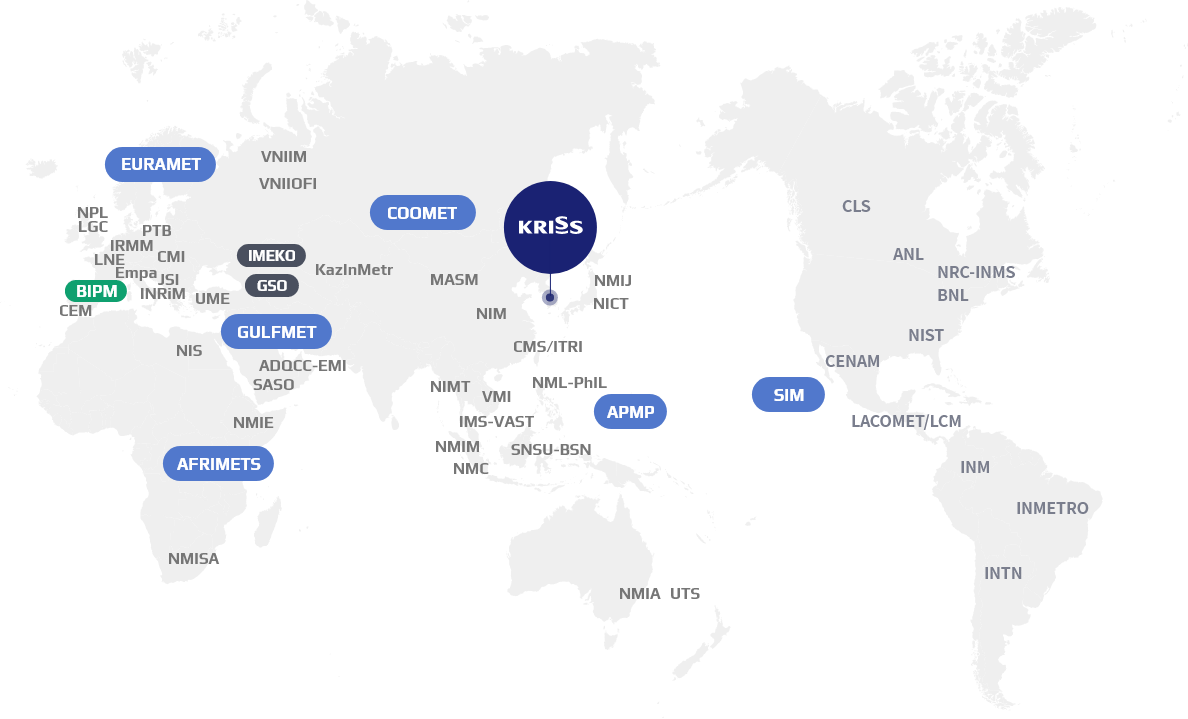 CIPM MRA
With the advent of WTO systems for world trade, the equivalence of national measurement standards has become a more important issue than ever before in international metrology communities. To reduce any technical barriers caused by differences in metrological systems, the NMIs of 38 member states of the Metre Convention, along with two international organizations, signed a Mutual Recognition Arrangement (MRA) in 1999 that was arranged by the CIPM.

The agreement allows the signatory NMIs to mutually recognize national measurement standards, as well as the calibration and measurement certificates issued by one another. The CIPM MRA provides transparent, reliable, peer-reviewed and quantitative information on the capabilities of NMIs and the degree of equivalence of SI units and quantities they measure. The CIPM MRA also provides a technical framework for several agreements negotiated upon for international trade, commerce, and regulatory affairs in such cases where acceptance and equivalence in measurement results are important.

KRISS has been a member of the CIPM MRA since 1999. To meet the requirements of the global MRA, KRISS actively participates in key comparisons (KCs) organized by related regional and international organizations, such as the CIPM and APMP, and carries out peer reviews on calibration and testing services.
International Competencies demonstrated by Key Comparison and Peer Review
Key Comparisons (KCs) is an international comparison of key measurement standards recognized as the largest international cooperation program in metrology. International organizations, including IAEA and WMO, as well as various economies have signed on to the CIPM MRA (Mutual Recognition Arrangement) since it was adopted in October 1999. While equipping itself with a quality management system befitting international standards to fulfil conditions of the CIPM MRA, KRISS has been continuously engaged in the KCs.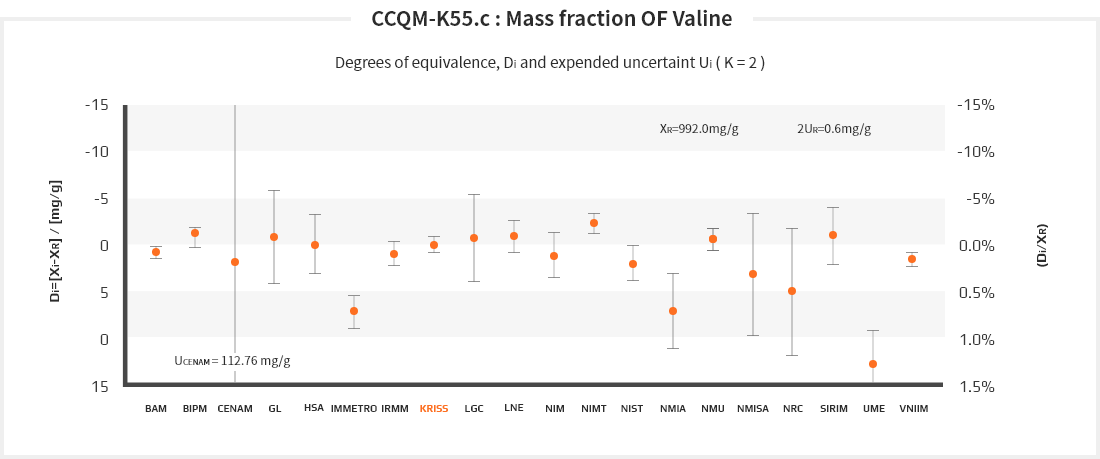 Participation in KC (as of Dec. 2022)
KC Participation, KC Pilot, Total KC Participation, Total KC Pilot, Pilot Ratio
KC Participation
KC Pilot
Total KC Participation
Total KC Pilot
Pilot Ratio
CC
RMO
CC
RMO
510
92
18%
295
123
26
66
418
92
CMCs listed in the KCDB (as of Dec. 2022)
AUV, M, L, PR, T, TF, EM, RI, QM, Total

| AUV | M | L | PR | T | TF | EM | RI | QM | Total |
| --- | --- | --- | --- | --- | --- | --- | --- | --- | --- |
| 56 | 49 | 40 | 55 | 72 | 29 | 100 | 214 | 529 | 1,144 |
Key Comparison
A cross-comparison program for measurement outcome conducted by NMIs in defferent countries by sector to secure international equivalence.
Holding measurement capacities of international level is a prerequisite to participate in the KC organized by CIPM
The quality system og KRISS is regulary reviewed by experts from overseas NMIs to ensure its Cailibration measurement capabilities (CMCs) ans campliance with ISO/IEC 17025 & ISO 17034. The peer review by overseas experts is conducted every 5 years in accordance with the APMP Guideline.
QUICK MENU
QUICK MENU
원하시는 서비스를 클릭하세요!
등록된 퀵메뉴가 없습니다.