KRISS-KAIST Develops Single-Electron Source to Boost Research on Quantum Computing
Writer

krissadmin

Date

2022-12-22 00:00

Hits

483
KRISS-KAIST Develops Single-Electron Source to Boost Research on Quantum Computing and Quantum Information Technology
- Improved performance with less time and cost to accelerate advances in domestic quantum research -
- Higher scalability and integration capacity than single-photon sources; mass production supported by existing infrastructure -
The Korea Research Institute of Standards and Science (KRISS, President Hyun-Min Park) and Korea Advanced Institute of Science and Technology (KAIST, President Kwang-Hyung Lee) developed a new type of single-electron source that can be utilized in quantum information technology. The source, which offers better performance compared to existing sources while saving time and cost, is expected to accelerate advances in quantum computing and quantum information technology in Korea.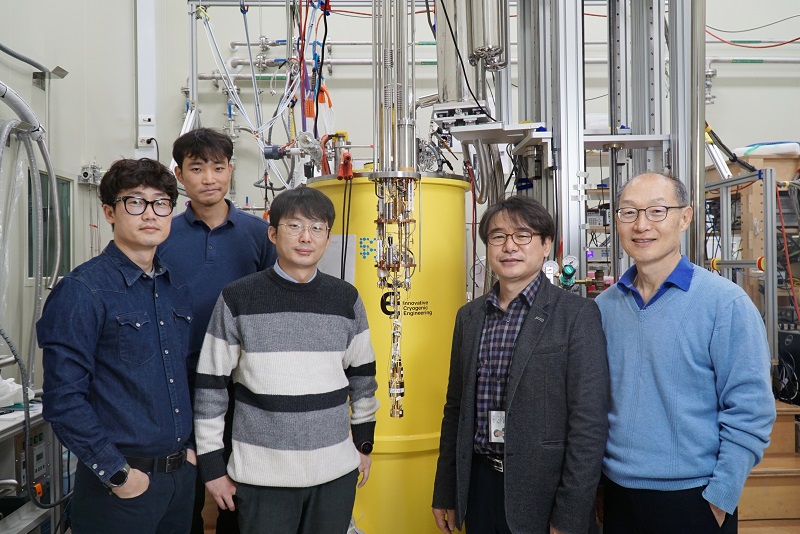 ▲ KRISS-KAIST Joint Research Team
(From the left) KRISS Principal Research Scientist MinKy Seo, KAIST Ph.D. student WanKi Park, KRISS Principal Research Scientist Bum-Kyu Kim, Myung-Ho Bae, and Nam Kim.
A single-electron source is a device that emits electrons one by one based on semiconductor technologies. This ability to control individual particles is essential to realize quantum states for quantum information technology and quantum computing.
Quantum technology research based on moving particles has mostly relied on single photons, not single electrons while single-electron sources have been developed to realize the definition of ampere. This is because the electron's energy generated from single-electron sources is too high to observe quantum phenomena, or too low to separate electrons from holes* have been difficult.
*Hole: the lack of an electron at a position where one could exist in an atom or atomic lattice.A hole behaves like an electron with a positive charge.

▲ Single-electron source and an output current map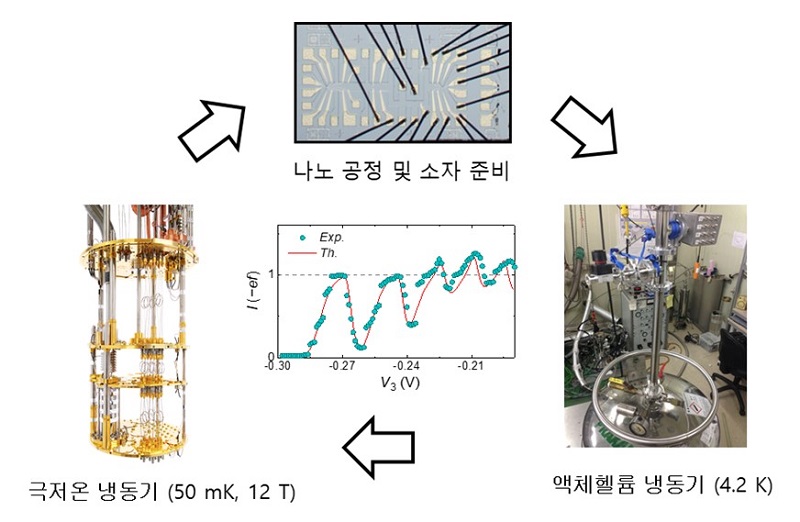 ▲ Development process of single-electron sources using two-dimensional semiconductors
The single-electron source is basically operated with a quantum well (or quantum dot) defined by applying local electric fields in a two-dimensional compound semiconductor. The quantum well synchronized with an external signal periodically absorbs and emits certain number of electrons from an electron reservoir. Finally, only one electron flows into the desired channel using an energy filter under a high magnetic field. It combines the advantages of existing single-electron sources, and thus can be applied to quantum computing and quantum information technologies without complex techniques or expensive equipment.
Quantum technologies with single-electron sources based on two-dimensional semiconductors allow us to manipulate quantum states, compared to the quantum optics with single-photon sources. Thanks to the high scalability and integration capacity, it is possible to fabricate multiple electron sources on a single wafer and pack dozens of qubits* in small areas. Another advantage is that the industrial infrastructure for mass production is already available.
* Qubit: a basic unit of quantum information.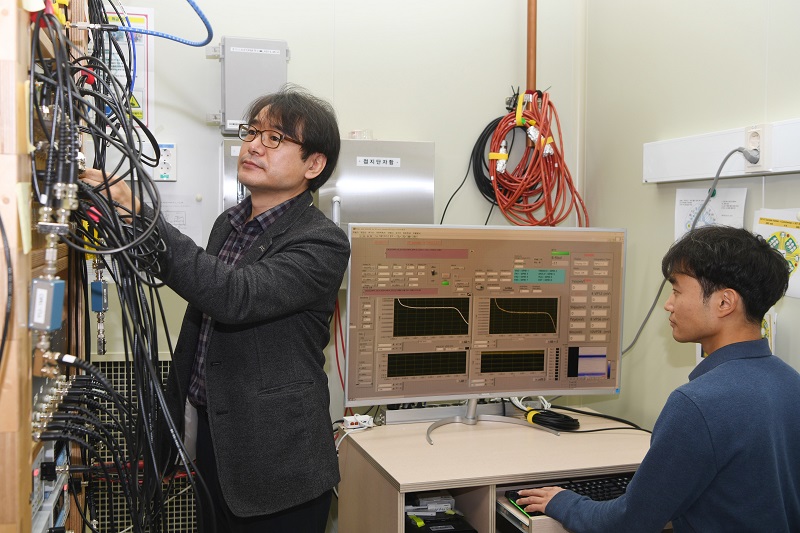 ▲ Myung-Ho Bae, a principal research scientist at KRISS, and WanKi Park, a Ph.D. student at KAIST, are measuring the electrical characteristics of devices with the single-electron measurement system.
Myung-Ho Bae, who leads the Single Electron Quantum Devices Team at KRISS, said, "Our results will significantly save time and cost for future research on quantum computing and quantum information technology. If applied to quantum computing, single-electron sources can achieve faster operation speed than superconducting or spin-based quantum computing."
The team plans to establish a qubit system using the single-electron source to further boost quantum information technology.
Funded by the Ministry of Science and ICT's Science Research Center Program and KRISS, the study was published in the leading journal Nano Letters (IF: 12.262) in November.