KRISS Develops a Direct Measurement Method to Probe the Electronic Properties of Quantum Materials
Writer

krissadmin

Date

2022-08-23 00:00

Hits

302
KRISS Develops a Direct Measurement Method to Probe the Electronic Properties of Next-generation Quantum Materials
- The first experimental realization of probing the high-energy spin-dependent electronic structures of two-dimensional quantum magnetic materials -
- Lay the foundation for commercializing low-dimensional quantum devices with next-generation quantum materials -
# Since the discovery of "dream-material" graphene in 2004, extensive research efforts have been focused on searching and characterizing new two-dimensional (2D) van der Waals (vdW) materials, including spin-polarized 2D magnetic materials that have been widely explored over the past few years.
A local research team* has successfully measured the spin-dependent electronic structures of 2D magnetic materials, which were previously limited in theoretical expectations.
* KRISS, Sejong University, Pohang University of Science and Technology (POSTECH), Seoul National University, Institute for Basic Science (IBS), Korea Basic Science Institute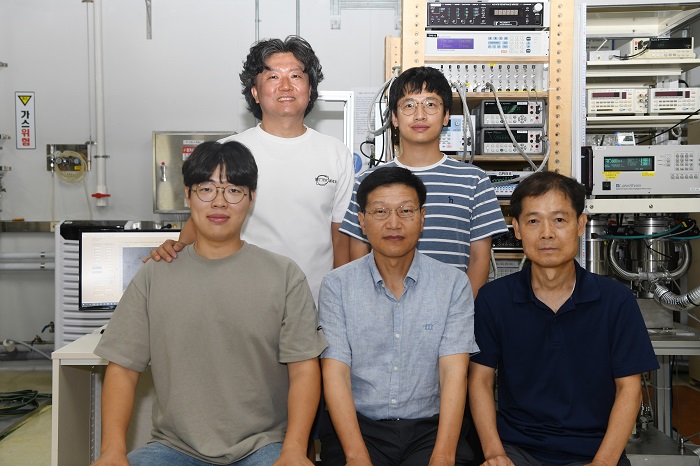 ▲ KRISS Low-Dimensional Materials Team
(Clockwise direction from left in back row) Suyong Jung, principal researcher; Duk Hyun Lee, post-doc researcher; Dong Han Ha, principal researcher; In-Ho Lee, principal researcher; Keun-Hong Min, student researcher
Two-dimensional magnetic materials are considered essential for realizing next-generation quantum information and memory devices. To exploit them in future device applications, it is imperative to assess the spin-dependent properties of the 2D magnets accurately.
Until now, measurements of the spin-dependent structures were possible only for a limited energy range, with most material characterizations relying on theoretical estimates instead. In addition, spin information is susceptible to the physical and chemical environment, so even a slight disturbance can result in a loss of spin information.
This study is the world's first experimental realization of directly probing the high-energy spin-dependent electronic structures of 2D vdW magnetic material Fe3GeTe2 (FGT).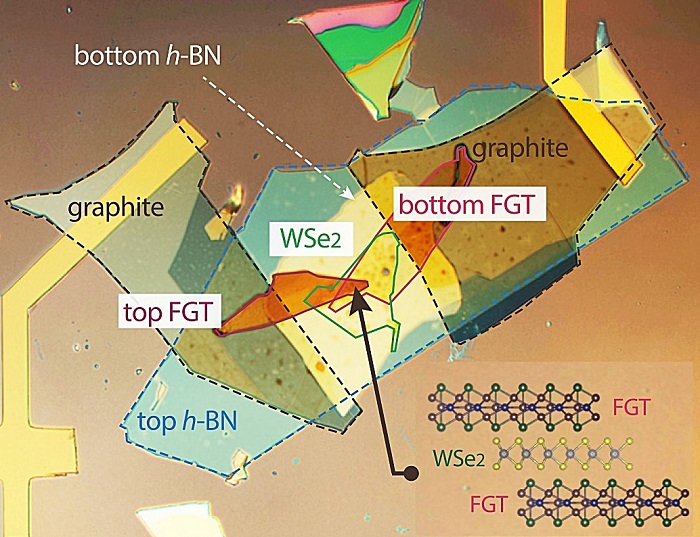 ▲ Optical microscopic image of FGT device with defect-free vdW interfaces
The team applied a spin-dependent electron tunneling spectroscopy method to measure the high-energy spin-dependent electronic structure of FGT, and validated the experimental data with theoretical estimates. FGT is a well-known metallic ferromagnet that maintains its magnetic properties down to the single atomic layer and is considered an essential material in developing next-generation quantum spin and information device applications.
˚ Electron tunneling spectroscopy is an experimental technique that measures the electronic structures of condensed matter systems. Since the tunnel junction is susceptible to physical and chemical disturbances, spin-dependent electron tunneling spectroscopy is limited to a narrow energy range. Using atomically clean van der Waals* assemblies, however, the research team has extended the energy range without any loss of spin information and measured the high-energy spin-dependent electronic structures of FGTs.
* Physical forces causing push or pull between atoms and molecules.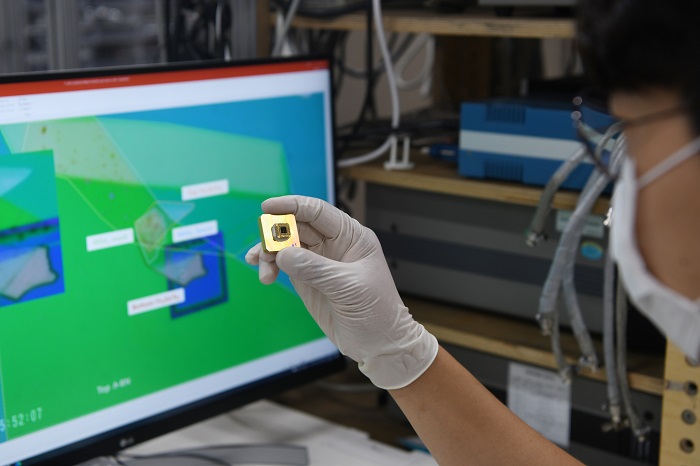 ▲ FGT-based magnetic tunnel junction device with defect-free van der Waals interfaces
Accurately assessing spin-dependent material properties of 2D magnetic materials with proper materials metrology approaches is crucial to develop next-generation quantum phase and information devices. In addition, 2D heterostructures with defect-free vdW couplings can provide an ideal device platform for realizing next-generation spintronic devices such as quantum memory and probabilistic memory.
Suyong Jung, principal researcher of the KRISS Low-Dimensional Material Team said, "Our research achievements are in line with the extensive research efforts on quantum magnetic materials in Korea. Furthermore, thanks to the strong collaborations with other research teams in Korea, we can expand the scope of quantum materials research and present the possibilities for commercializing low-dimensional spintronic devices with the 2D quantum magnets."
The study was funded by KRISS, the Basic Science Research Program under the National Research Foundation of Korea, IBS Center for Artificial Low Dimensional Electronic Systems, and IBS Center for Correlated Electron Systems, and was published in the top-tier research journal in materials science, Nature Materials (IF: 47.656) on August 5.