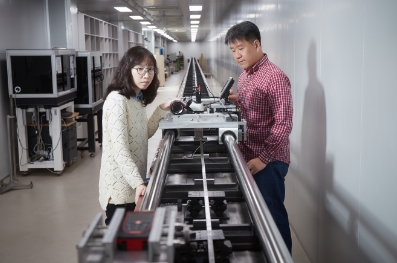 Length and Shape Standards Team
The Length and dimensional metrology Team maintains and enhances established measurement standards of length and related quantities, and focuses on researches to develop technologies that can meet the needs of the future society and smart factory manufacturing platforms that will be realized through the convergence of advanced industrial technologies such as artificial intelligence, virtual/augmented reality, IoT sensors, hyper-connectivity, and autonomous driving. Examples of such researches include "novel optical image sensors for simultaneous measurement of multi-dimensional displacement/angle/surface profile", "ToF-based 3D spatial information measurement", as well as "on-machine performance evaluation and calibration technology".
Key Research Area
Development of smart vision solution for high-speed, multi-dimensional motion/position/profile measurement
Digital code based absolute encoder sensor
On-machine performance evaluation/on-site calibration research for precision stages and robots
Development of large-area surface profile measurement technology/instruments based on optical image analysis
Development of source technologies of 3D ToF camera and LiDAR for long-distance/large structure measurements
Area of responsible measurement standards: linear dimensions (gauge blocks, step gauges, line standards, ring gauges, plug gauges, tapes, laser interferometers, EDM, etc), angle (index table, autocollimators, angle blocks, optical polygons, levels, rotary encoders, etc), form (straightness, surface flatness etc), various dimensional (geodesic baselines, CRMs for 2D dimensions etc).